︎ @conspiracy sent you a pic

INTERACTIVE WEBSITE / DATA VISUALIZATION / 2020 / POLITECNICO OF MILAN / GROUP PROJECT

Conspiracy theories are built by a community of people as shared knowledge, that is why, with the birth of the Internet and Social Media they found a perfect environment to flourish. In this new world, the catchy content shared by believers of conspiracies finds an easy and fast way to spread. Platforms like Instagram and TikTok, in which
visual language
plays a leading role in communication, are used to create imagery around conspiracy theories. This research aims to discover what makes the
aesthetic of conspiracy theories
so powerful and catchy, in particular on
Social Media
. The purpose is to understand which visual language conspiracists use to communicate, if there are some differences or similarities between conspiracies and what are the elements that contribute to build a
specific symbology
on which they base their theory.
︎︎︎ Website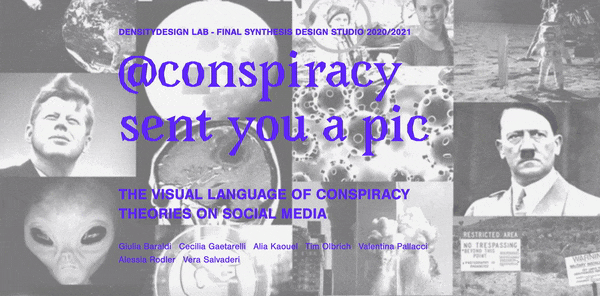 HOW ARE IMAGES EDITED IN ORDER TO CREATE A VISUAL IMAGERY ON R/CONSPIRACY SUBREDDIT IN THE LAST YEAR?
Images, in order to convey messages related to conspiracy theories, are edited through different techniques. These interventions can modify the original meaning of an image and add possible layers of interpretation. Reddit was chosen as the research environment since the platform tends to stimulate debates around conspiracies using images as a starting point. Through the analysis of the images shared in the most followed subreddit regarding conspiracies is shown how much is the treatment of images used and which are the main techniques.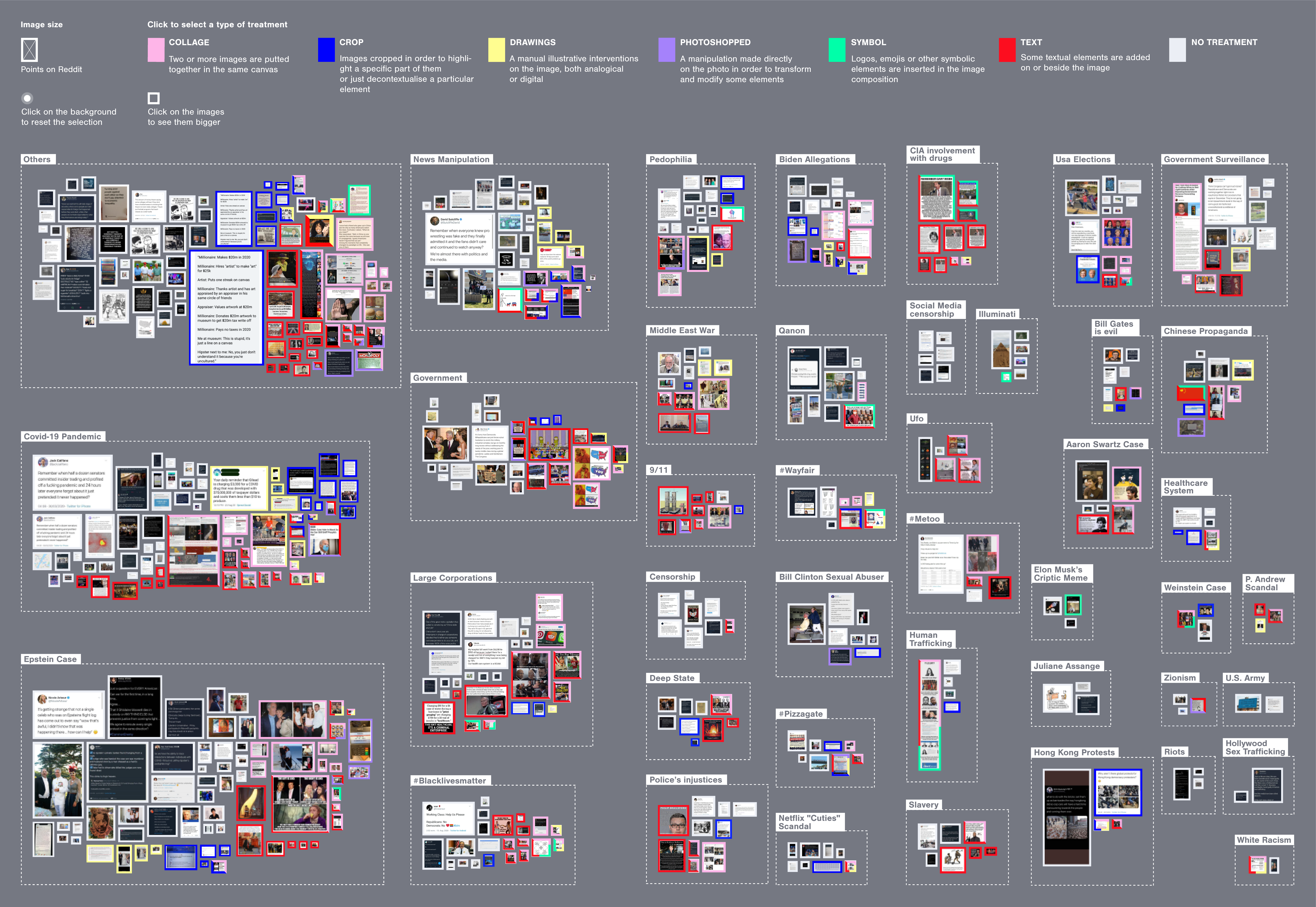 WHICH OBJECTS, THROUGH THE SPREADING OF IMAGES ON INSTAGRAM PROFILES WITH MORE THAN 50K FOLLOWERS IN THE LAST YEAR, BECAME PART OF CONSPIRACIES' SYMBOLOGY?
Conspiracy theories are generated building a symbology around actions or objects. In particular, some items are so strongly linked to a conspiracy theory that their perception in people's mind can change. Animals, technology, shapes but also people are taken out of their usual context and used to create an imagery for the conspiracy. Instagram, as a mainly visual social network, uses images, and in particular the object they represent, to vehicle a message. In order to have a general overview we selected the 10 most influential conspiracy profiles on Instagram.



DOES THE KEANU CONSPIRACY MEME USE MORE SUBJECTS FROM WIDELY RECOGNIZED THEORIES OR UNUSUAL SUBJECTS THAT BECOME PROTAGONIST OF BRAND NEW IRONICAL THEORIES?
"Conspiracy Keanu" is a meme series starring the Hollywood actor Keanu Reeves. This series offers a pattern, represented by a fixed image and a recurring sentence structure. This template allows both to share already existing conspiracies and different objects to become subjects of new absurd conspiracy theories. In fact, it's exactly by mixing the common rhetoric of conspiracies and the aesthetic of the meme that many people on social media manage to make jokes about different subjects and at the same time to raise existential questions that mimic the style of real conspiracy theories.


WHICH ARE THE MOST USED VIDEO FORMATS ON TIK TOK IN ORDER RO MAKE VIRAL THE #COVIDHOAX, #WAYFAIR AND #FREEBRITNEY IN THE FIRST 100 RESULTS
TikTok is a new social platform that is becoming more and more popular. It introduced new visual formats for conveying information through the usage of short videos. Conspiracy theories as entertaining content have found in the platform a place in which their believer can share content and spread their ideas. Through the analysis of three different major hashtags related to conspiracy theories it can be highlighted if TikTok with its trend formats can influence the way users share conspiracy theories.